PKKP Perth Office Opening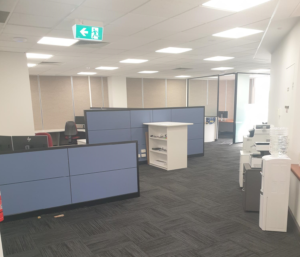 PKKP Enterprises reached another milestone in April with the opening of the new Perth office at Level 2, 200 Adelaide Terrace, Perth.
The office is shared with PKKP Enterprises JV Partner, Momentum Business, a local HR Services and Recruitment company with a focus on Aboriginal recruitment and support.
Whilst Operations remain predominantly Karratha-based, the Perth office will provide the chance to collaborate with like-minded organisations and metro-based stakeholders, building further partnerships and opportunities for the Enterprise.
The new office will house around 15 staff with PKKP Enterprise Project Manager, Robert Butina, a permanent fixture, managing the facilities.
The space has been set up with a shared-desk capability to enable PKKP Enterprises staff and JV partners to utilise the space when in Perth. A dedicated meeting room with a video link has been established to facilitate meetings between Perth and The Pilbara. This enables daily communication between the Perth and Karratha office.
Although the primary base for The Board is Perth, which is where the bulk of the meetings will take place, they will continue to travel to the Pilbara for meetings.
General Manager, Shane Burgess is based in the Karratha office and will travel to Perth on a fortnightly basis, while Susanne Braithwaite manages the Karratha office.
Shaun is excited by the development, "The opening of the Perth office provides us with the ability to be in two places at once. It maximises our networking opportunities with like-minded city-based organisations, building valuable partnerships and collaborations, it's an exciting time."