Award for IMC PKKPE Joint Venture
IMC PKKPE JV have been nominated and won a NAIDOC Award for Empowering Generational Change at Eliwana Mine.
IMC PKKPE JV is a joint venture between Indigenous Partnerships Australia (IPA) and PKKP Enterprises Ltd. IMC PKKPE JV have designed and implemented an entry-level pre-employment training program to introduce Indigenous candidates to the resource sector.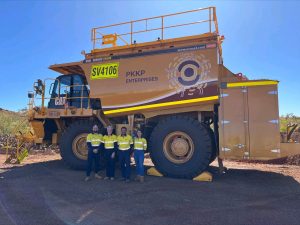 The program aims to provide opportunities to Indigenous Australians with no mining or machine experience that endures benefit to the local communities in which IMC PKKPE JV operates and provides Indigenous Australians with sustainable opportunities through traineeships. Post the successful placement of a trainee, they will then be supported with ongoing training, assistance and mentoring by the onsite Supervisors and Project Manager.
At the completion of the program, the trainee will receive a Certificate III in Surface Extraction Operations (RII30120) and Certificate III in Civil Construction (RII30820). Earlier this year, IMC PKKPE JV successfully attracted Jeremy Sammy, a traditional owner and PKKP man. They have supported him onsite and he has successfully integrated into the team and into a Fly In Fly Out (FIFO) role.